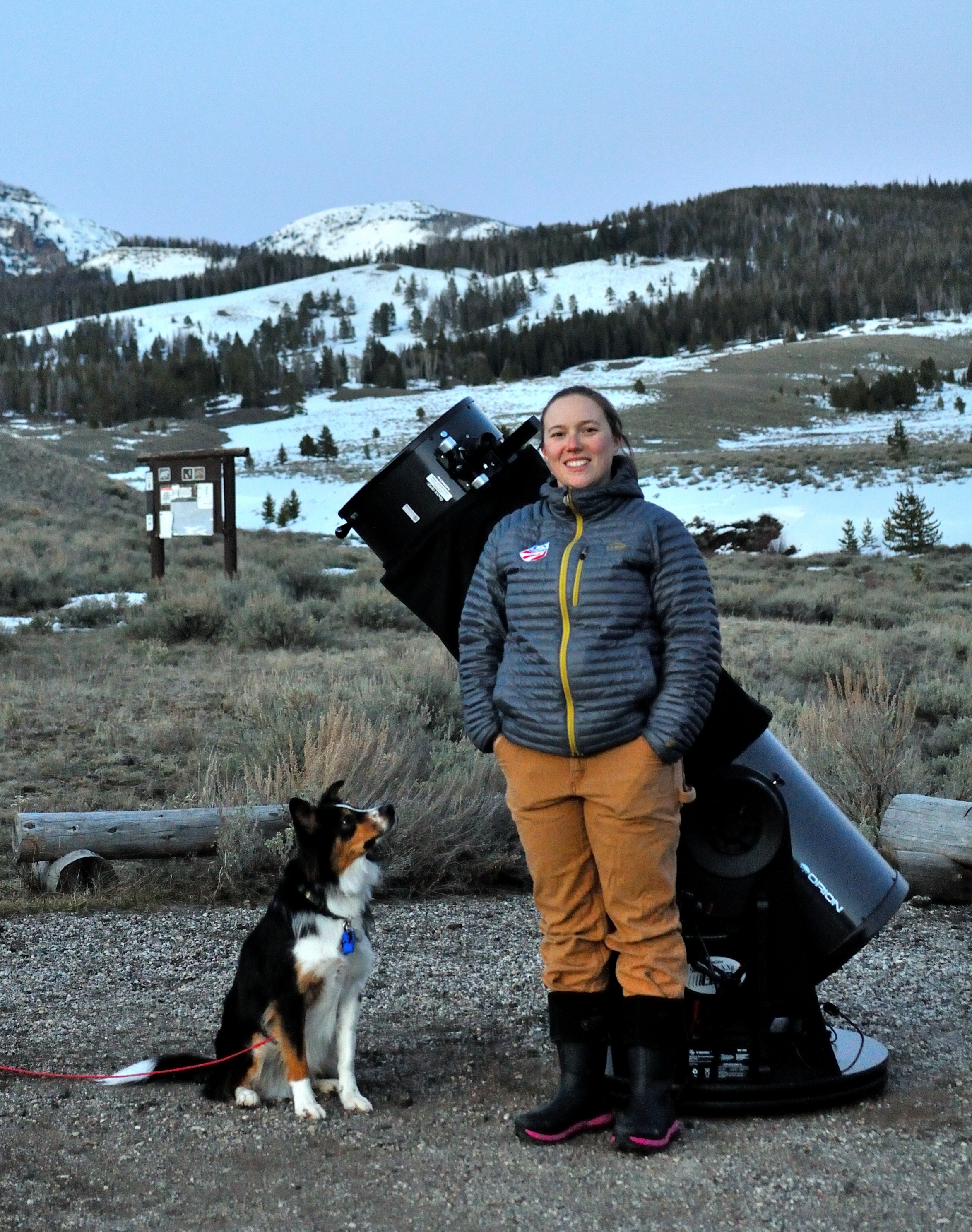 Rebecca Spitz
Director;
Space Naturalist
When Rebecca was 11, her parents took her on a trip to Arizona, where she saw M13 through Percival Lowell's telescope. The next night, she and her family attended a star party just yards away from the edge of the Grand Canyon. After seeing binary stars, star clusters, and her first galaxies (M81 and M82), her Mom recalls Rebecca saying "I'm with my people." Since then, Rebecca has held a passion and excitement for astronomy and the Universe. In her spare time, Rebecca enjoys artisan coffee, hiking with her dog Kepler, playing video games with Jeff, and playing Magic: The Gathering with friends.
Drawing on over eight years of experience operating manual and tracking telescopes, Rebecca can find and describe a wide variety of deep space objects in a matter of minutes. The combination of her studies, both collegiate and independent, have helped Rebecca lead hundreds of people through mind bending experiences of the night sky. Rebecca has been educating curious minds since 2014, and is thrilled to continue teaching the wonders of the Universe!
Jeff Rudolph
Space Naturalist
On Jeff's first day of high school physics, he had his mind blown by an amazing teacher. Jeff wanted to feel that rush of discovery every day, so he gravitated towards the most mysterious phenomena in our Universe, astronomy. Jeff attended Alfred University with Rebecca, where he received a Bachelor's in Physics, with a concentration in astrophysics, and minors in mathematics and astronomy. Jeff has been leading private and public stargazing programs since his time at Alfred, where he was an active member of the university's Astronomy Club. He often led the weekly astronomy open house hosted in Alfred's observatory!
In his spare time, Jeff enjoys snowshoeing and skiing in the winter, hiking in the summer, playing video games online with Rebecca, and practicing his DJ skills. His passion for astronomy is infectious and unwavering, and Jeff is excited to continue sharing his knowledge with anyone who wants to learn.
Ashley Vail
Space Naturalist
Ashley is a California native with her heart in the mountains. She began college as a Theatre major at San Francisco State University, but turned a 180 after discovering a love for Astronomy. Once she peered into a telescope to see Saturn's rings for the first time, Ashley knew there was no going back. It's been a lasting love that has earned her a degree in Physics and Astronomy. Some have said that Ashley's spunk and excitement can make even the grumpiest of people smile, and she brings that gift into her teachings of space science!
In her free time, Ashley is an avid rock climber, ramen aficionado, WoW player, and #1 fan of Tommy Wiseau. She is excited to bring her marketing experience to In Focus Astronomy!
With a background in Business and Information Systems, Shana has over 5 years of experience in data, troubleshooting, and hardware. She is generously donating much of her free time to In Focus Astronomy, and has been instrumental in building the website, assisting Rebecca with testing new astronomy equipment, and providing feedback to help create a sustainable business model.
When not working, Shana can be found trail running around Bozeman with her best friend Berkie, mountain biking the Bridgers, Nordic skiing on lunch breaks, or cooking (and eating) new recipes.
Mary Spitz
Creative Director
With over twenty years of fundraising experience and elementary school education experience, Mary is thrilled to make In Focus Astronomy a family business!
A key contributor to the laws of planetary motion, Kepler is in his element trying to imitate a Boson particle. In his spare time, Kepler can be found napping at Rebecca's feet, trying to get someone to play fetch, or destroying the nearest stuffed toy.